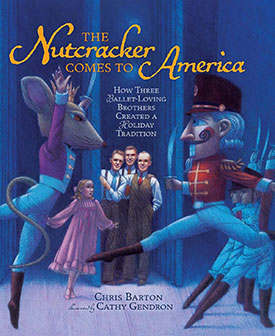 Cathy made her children's debut with a book by Chris Barton, The Nutcracker Comes to America: How Three Ballet-Loving Brothers Created a Holiday Tradition.
PRAISE for the Nutcracker Comes to America:
"…In her first picture book, Gendron uses pencil-and-oil art―strikingly textured with sweeping scratch-marks―to provide views from studio, audience, and stage wings, expertly capturing both the period setting and the graceful movements of the dancers…" ―starred, Publishers Weekly
"…Gendron turns in a virtuoso performance. Her handsome illustrations capture the distinctive posture and poise of ballet dancers, while portraying even minor characters as individuals. Suffused with light and warmth, the varied, imaginative paintings include dynamic textured effects as well as an inventively used ribbon to tie pages together. Bravo! Brava!"―starred, Booklist
"…the delightful goings-on onstage and backstage during the first Nutcracker, are illuminated in the arresting illustrations by Cathy Gendron – multiple coatings of thin oil glaze meticulously layered over pencil drawings on gesso. The colors glow softly on the page, and the whimsical yet realistic figures convey energy and emotion that will intrigue adults as much as children." – The Huffington Post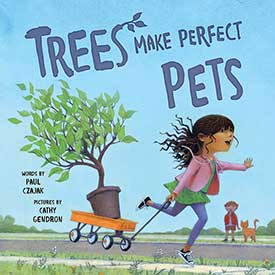 Coming Soon!
Trees Make Perfect Pets, written by Paul Czajak and illustrated by Cathy is due on the shelves March 1, 2020.
Abigail is Determined to ge her perfect pet. So she chooses Fido. He keeps her cool from the sun, stays where she tells him, and even gives her air to breathe. That's because Fido is a tree! But not everyone thinks having a tree as a pet is a good idea, though, especially when Fido starts to grow. Will Abigail be able to keep her perfect pet?
Preorder your copy now!


Looking for affordable illustration for stock or licensing? Check out Cathy's archive of past images available on the iSpot.com.